Those of you who read my blog will know that I came into a lot of Greek Yogurt recently and had to drum up all sorts of ways of using it apart from just eating it! Some of my trials have been a bit hit and miss or need tweaking but this dish was a hit straight away and one my husband said he wanted regularly. This is music to my ears because it's one of the easiest recipes I have ever put together, no, strike that, it is the easiest recipe I have ever put together.
I served this dish with red pesto pasta and a salad which worked a treat but feel free to serve with whatever you wish!
I am entering this dish into the Herbs on Saturday challenge which is hosted this month by Jen at Blue Kitchen Bakes and usually by Karen at Lavender & Lovage.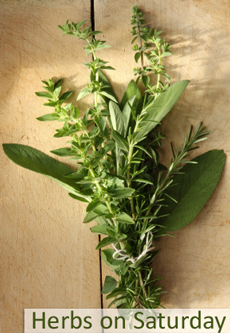 Step 1 mix the greek yogurt and other ingredients together (except the chicken).
Step 2 coat the chicken breasts and bake for 35 – 40 minutes.
Succulent and yummy!
Yogurt & Parmesan Chicken Breasts
Succulent chicken breasts in a Greek yogurt, parmesan, garlic and herb coating, so quick and easy to prepare!
Ingredients
4 Chicken Breasts (skinless)
250ml / 8.5 fl oz Greek yogurt
1 tsp Dried mixed herbs or 4 tsp fresh chopped herbs
½ tsp Freshly ground pepper
2 Large pinches Malden sea salt
2 Garlic cloves crushed
45g / 2oz Parmesan or other hard Italian Cheese grated
Oil for greasing
Instructions
Preheat the oven to 190°C
Grease a roasting tin with oil.
Mix the yogurt and all the other ingredients in bowl except the chicken.
Now coat the chicken breasts in the yogurt coating and put in the roasting tin. Any spare coating can just be spooned on the breasts.
Bake for 35 – 40 minutes.
Serve with pesto pasta and a salad or whatever you fancy!