We've had another delightful batch of entries to Credit Crunch and it's been good to see some new blogs entering too. So let's not hang about – on with the recipes!
First up were Jane from Onions & Paper's Red Lentil Balls or Mercimek Koftesi which she was inspired to re-create after eating them on holiday in Turkey and coming in at £1 in total I think these are an absolute winner!
e – Red Lentil Balls or Mercimek Koftesi.
Foodie Quine brought us a post entitled Love Food Hate Waste – Leftover Vegetable and Black Bananas bringing us not one but 4 frugal recipes from a workshop she did – you must check them out!
Becky over at Mint Custard came up with a cunning way of using up those leftover broccoli stalks in this Broccoli Stalk Soup which she perked up with the addition of some blue cheese – very delicious it looks too (and I don't even like blue cheese LOL)!
Ness from Jibber Jabber brought us every kid's dream dish Hotdog Pasta – very yummy it looks too and super frugal!
Next up Alex from Gingey Bites cooked up a Lovely Lentil & Spinach Pie which she adapted from the legend that is "Nigel Slater" so this is just going to be brilliant right?!
My first offering comes in the form of Easter Chocolate Granola Cakes made with a cheap (£1.19) box of cereal from Aldi and some savers chocolate to make these delicious cakes which you don't just have to save for Easter!
Spinach Polpette with Tomato Spaghetti looks amazing and was made by Shini from The Introverted Chilli – at 75p a serving it's a really healthy and frugal dish!
Another Easter offering from me came in the form of Wholemeal Apple Hot Cross Buns using up what I had in the cupboards to make a slightly healthier version of our beloved Hot Cross Bun (I think this was the post that nearly killed me, staying up til 1am in the morning to perfect it)!
Choclette from Chocolate Log Blog baked these fabulous Banana and Mince Meat Buns which used up the rest of her open jar of chocolate mince meat and a banana that had seen better days – yummy is all I can say!
The next entry from Chris of Cooking Around the World came with a warning:: Extremely Delicious Vegetable Lasagne and I must say I was drooling over this recipe! Very tasty and cheap to make!
Another Easter themed entry came from Ness at Jibber Jabber with these pretty individual Easter Simnel Cakes. Some bargain mincemeat and a glut of marzipan were put to great use here:-)
My turn again (can't keep a good woman down) with my Turkey and Chorizo Meatballs which were inspired by a 99p pack of turkey breast mince which my mother gave me. Spying some leftover chorizo in my fridge I knew what I had to do!
Annie from A Working Mum's Cookbook entered her No Bake Oat & Seed Bars which are are splendid way of using up all those nuts and dried fruits from your cupboard!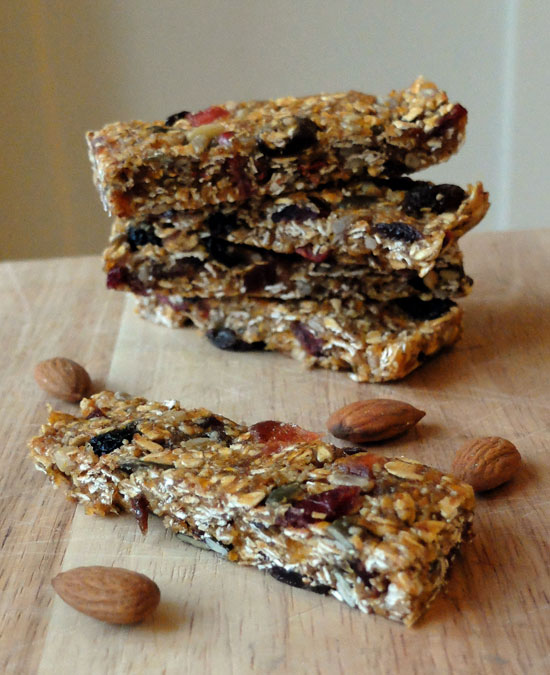 Some leftover lamb from Easter inspired Cheryl from Madhouse Family Reviews to make this delicious sounding Morrocan Lamb Stew – anything with chickpeas and garlic has to be a winner!
Spring Vegetable Broth from Laura over at How to Cook Good Food was the perfect antidote to the excesses of Easter, just bursting with flavour and goodness, how I'd love a bowl of this right now!
Finally a 2nd offering from Choclette of Chocolate Log Blog comes to us in the shape of Jammy Flapjacks – I love her ingenious idea to swap the sugar and golden syrup for jam!
So I 'd just like to say a big thank you to everyone who entered Credit Crunch Munch this month with such a fabulous array of recipes. Now I just need to announce the winner of the £20 worth of goodies from Steenbergs Organic! My trusty lottery pen has gone missing so I used a random number generator (sorry not clever enough to copy over to here) and the winning number was 1 so that means that Jane from Onions & Paper has won:-) Congratulations Jane – do DM me your address details.
May's Credit Crunch Munch is now open for business with Alex over at Gingey Bites (it's her 1st time so do be gentle) – get your thinking caps on as we need your frugal recipes!